For thousands of years it has been a well taught fact, that if you know the exact location of the home of a Faerie, you must never touch it, never walk across it, never bother it, never damage it, and never, ever under any circumstances destroy it. Be it a fallen log, an castle's basement, an old fox hole, or a long dead car, a Faerie's house is sacred, protected, and any damage will result in massive repercussions on the heads of those in the wrong.
For over a thousand years, much of Maine's Ross Forest remains untouched by humans. Within it's walls of giant pines have been found animals long thought to be extinct, animals serious endangered and believed to have not lived in Maine for over 100 years. From the Ivory Billed Woodpeckers in the glad behind the Powder Horn Campground, to the Caribou, Moose, Black Bear, Bobcat, Coyote, Wolves, and Wolverines of the Blue Berry Plains, to the infamous White Monkey of Etiole's Swamp, many rare animals call this small section of ancient forest their home.
One long road, starting in Saco, going through Old Orchard, next into Scarborough, and ending in Pine Point, The Ross Road of The Ross Forest, Maine, winds it's way through this massive many thousands of acres of trees. Running beside it and across it in many places, is Bachelder Brook, a spring feed brook, that feeds the swamp, and empties out on Old Orchard's Beach into the Atlantic Ocean.
Inside this forest are three of Old Orchard Beach's busiest landmarks: The Blue Berry Plains, The Powder Horn Campground, and Bailey's Park (another campground). The two campgrounds are boarded on all side by huge tall chain link fences, which the owners tell campers is to keep out the deer. This is not entirely true. The fences are there in fact to keep out the five bear, three wolverines, and one cougar that live in the forest. They are also there to keep campers out of the swamp and away from three other creatures that make their home in this forest, a trio of violent trickster Fae: a moderately peaceful, but hot tempered Far-Darrig and two extraordinarily violent and blood thirsty Phookas. The fence was put up around the entire grounds of the Powder Horn, with one small exception, it ends at the hill in the glade of Bachelder Brook. From the Glade to the Goggings Cemetery to the Underground Spring to Etiole's Swamp - a space of land covering about 15 acres, this section it carefully sectioned off, fenced and sign posted. An 8 foot fence all around it and signs telling campers to pass at their own risk, this is the section of the Ross Forest that was left untouched by humans and left open and free for the use of the three Fae that lived there.
In 1983, one of the three Faes of the Powder Horn Campground took a liking to my car, and when that car died, with the campground owner's permission, that car was towed out into the swamp and left for that Fae, who than took up residence in the car, and has lived in my car ever since. Since 1978, the owner of the Powder Horn has only ever allowed two people access to this fenced off section of land: myself and my father. Here is where my car was parked, and here is where my rose garden was built around it. And here, is where I made friends with one of the forest's three legendary cryptids: the Far-Darrig known as Etiole.
The swamp itself is very small, covering barely an acre of land, but it's path is treacherous and one wrong step will drag you down in fast moving quick sand. The swamp is the boundary between The Powder Horn Campground and our farm. The peat bog swamp is a natural oddity that had sat there filled with water and quick sand for thousands of years. This swamp, for over 300 years has provided the water for us, our family, or gardens, and our animals. Without the swamp, we could not run the farm. Without the swamp, our way of life would be drastically altered. Everything in our lives, depends on this swamp and it's providing us with water. You see, we have no public water. No pipe lines. No tap water. No well. This swamp is our one and only source of water. I point this out, because you need to remember how old this swamp is, and how important this swamp is to our farm, in order for you to understand why what happened last night, is of such dire importance to us..
The Far-Darrig is a creature known in folklore as "The Farmer's Friend". A relative of the Leprechaun, the Far-Darrig is a solitary trickster faerie. By nature they inhabit swamps, but when a farm is built on the boundaries of that swamp, the Far-Darrig will move onto the farm and, being the strange Elemental Being that that are, they manipulate the weather and cause crops to flourish.
My family (The Ricker's) started farming this land in 1657. The land was settled by Thomas Rodgers (yes, the same one of the MayFlower fame), who married into the Googgins family, who married into the Ricker family, who married into the Allen family (yes, the Allen's and MacDuffy's of Portland -the same family that founded Portland, Maine, also founded Old Orchard, Maine). Back than, they owned the swamp, the land that is now the Powder Horn Campground, much of the Ross Forest, and more than half the land which now makes up the Town of Old Orchard Beach. One only has to look up my family's colorful history to see just what exactly the effect of protecting a Far-Darrig will do to one's good fortune.
As long as the farm's resident Faerie was left to himself and left unharmed, the family had wealth, government lordship, crops like no one could imagine, and a booming egg business that supplied eggs to most of Southern Maine for over 100 years. This sort of prosperity ran in my family for over 300 years and came to a sudden and abrupt halt in August of 1991, when the Bishop of the Cape Elizabeth LDS Ward, declared our family to be demon possessed, said that our wealth, success and good fortune were a result of witchcraft, and made the first of many threats to have various members of my family excommunicated. (To date, they have excommunicated 5 of them, and their current excommunication attempts are now aimed at myself). This event in and of itself was not what ended our farm's prosperity, but rather, the fact that one member of our family, took this Bishop's words to heart, and would begin the many, often violent attempts to "kill the demon" as she so boldly puts it.
The nearly 200 year old egg business went bankrupt and closed it's doors in 1992. Crops wilted, and no amount of care would produce our former giant crops. No longer did we sell food at the farmer's market in Saco, for we now barely had enough crops to feed ourselves. We were no longer able to keep our "Three Year Food Supply" stocked and the did away with the food storage all together. Summer of 1996 saw the first of our cropless years. We would for the first time start buying food from the super market as we for the first time not be able to grow enough food to last the year. Formally, each crop feed us, filled our 3-year supply, and feed others as well. Now, we couldn't get enough food to last a full season, let alone a full year.
But it wasn't just the crops. Our entire land went dead. The grass stopped growing, and turned brown, trees developed colonies of ants, were hollowed out and fell to the ground. The entire land, every inch of it, was blighted, all except for one small section that stood about 20 feet in diameter: the rose garden that surrounded the 19 foot long car in the swamp, was the only part of our garden that remained green and lush and unaffected by this strange blight of death that had struck our land.
What had happened? The woman, known as "my stalker" is what happened. She made her first early attempts at vandalism the car in the swamp, the home of the Far-Darrig that protected our land and had blessed our crops. As I said, the woman is a relative, family, she lived on the same land as myself, and it was her vegetable garden, her trees, her grass, that got hit by this sudden wave of death. The worse her garden became, the more violent her attacks became on me, my car, my pets, and my roses. The worse her attacks became, the worse her health became. She developed a crippling spinal disorder. In 2004, bedridden, she was unable to plant her crops, so I planted them for her, and for the first time in years, we once again had more harvest than we could handle. In 2005, back on her feet again, she took over her garden again, but not before pulling up my rose bushes and listing my car as "For Sale". A flood took out her crops that year, and each year following, resulting in no harvest at all, due to the fact that there were no plants to harvest by the end of summer, thanks to 4 weeks of daily thunder storms, lightening strikes, and hail.
Pointed her accusing finger at my car and saying it was demon possessed, claiming that it's "demon" had cursed her health and her land, she set out on her increasingly more and more violent attacks on myself, my car, my pets, and my roses.
In 2005, I started a blog - this blog - to keep a record of each of the attacks. And as you have read over the years, they have been wild and many. Getting increasing worse until the final attacks that tool place between March 18th 2010 til May 5th 2010.
On March 18th, my flower garden in the swamp was torn to spreads. the bushes, trees, and plants taken down, chopped up, ripped apart, and composted, while the vandals themselves were caught on camera.
The Far-Darrig of the swamp, moves back and forth, between the swamp here in Old Orchard, and the Saco River Delta at York Hill (aka Factory Island) in Saco/Biddeford. With the destruction of his home, he left the swamp to stay at York Hill once again. But his temper was flaring, and that same week we saw two drownings in the Saco River Dam at York Hill, a black out on Saco Island, and the CMP electrical tower on York Hill blow up.
On May 5th, as you all well know, my car, that sat on our neighbor's land in the swamp of the Powder Horn Campground, was attacked, vandalized in the extreme, cut in half, smashed, taken apart, striped down, stolen by this crazed raving lunatic woman, and sold to a car crusher, who could not crush my car due to the fact that he was in jail at the time of the car theft, and thus my car got thrown into another guy's junk yard to wait for the car crusher guy to get bailed out. In the mean time people who knew the car, knew the car had been stolen, and saw the car, helped me track it down and get the remains of it's remains back. On May 15th the car has been put in storage and is no longer in the swamp at the Powder Horn Campground, for fear of farther attacks by the vandals, and this now leaves a very angry Faerie without his house.
Two weeks have passed, since the Faerie's car/house was stolen, and garden season is now well upon us. At this time of the year, Bachelder Brook, the swamp feed brook which feeds of land, waters us, our animals, and our plants, should be under no less than two feet of swiftly running water. This time of the year, we should still have high water, as a result of snow run off. At this time of the year, the water is often over the tops of the bridges. I measured the water last night: it is 3 inches and going down fast. With in the next 2 weeks, Bachelder Brook will run dry. It never runs dry before August, if it runs dry at all.
Since the theft of my car, the brook's water level has dropped daily, rapidly. It is as if some one had built a dam across the swamp to stop the water from flowing down, and as the water runs out, the brook runs dry, because no new water is coming in. At least, that's what it looks like. A tree downed by a storm, in the past, had caused this to happen once before, and it was a simple matter of walking up the brook, through the swamp and to the spring, until the fallen tree was located, and pulling it out of the path of the water, thus allowing the water to flow freely into the brook once again.
And so, thinking that this was once again the case, last night, I made the long, many mile trek up the brook in search of what was causing the water to stop flowing into the brook. Like I said, I expected a fallen tree. The last thing I expected was what I found. I knew that the Fae were angry over the theft of the car. I knew that he would react and most likely violently. I did not know he would do, what it is that he did, nor could I have imagined that he was even able to do anything like this.
While I made the many mile trek "just in case", I had only to go 50 feet before I found the case of the problem. I had only to set foot into the swamp. Or sound I say, the desert where for hundreds of years, there used to be a swamp until today.
The swamp is gone.
Yes, you read that correctly. The swamp is gone. There is no swamp. Where the swamp once was, is now a huge dune. White sand. Acres of white sand. No water. The grass is still there. It still looks like a swamp. And where the quick sand spots where, those are still actively sucking in any thing that steps on them, but no water in sight. I took a shovel and dug down more than a foot, with no end of sand in sight.
I crossed the swamp (for I know the path to get around the quick sand) and continued following the brook up to the spring. The brook is buried in sand. The land all around the brook is buried in sand. The wetlands around the swamp are bone dry and buried in acre after acre of gleaming white sand. The brook as far up as you can follow it, it barely a trickle. Even in places where it should be 8 feet across and four feet deep, the water was never wider than four or five inches or more than two inches deep. It is not just the swamp that has been laid to waste by this massive ocean of sand, but the entire brook itself. And the spring? The spring it seems is the source of the problem. I reached the spring. The spring that never before, not once in hundreds of years, has ever run dry, has ceased to exist. Gone is the cool bubble of water that comes up around the roots of the double tree, and the sand itself is now bubbling up out of the ground like a geyser.
Like Moses of the Bible who punished the wicked by turning their water to blood - it would seem that our resident Faerie in his anger, has chosen to punish the couple who destroyed his home, by turning the water to sand.
As I said, there is no pipe line, no town water, no well, only this brook is there to provide water for us, our animals, and our crops. It is now imperative that we dam up the brook and try to hold back what little water still remains, for there is no more water coming down from the spring, and we've a long summer ahead of us. This, however, I shall not do. The only garden left on the land is not mine, and as my own animals were long ago slaughtered one by one by vandals, I've no animals to water either. The car thief destroyed my garden, just before stealing my car. I have no plants left to water. This lack of water will not have any personal affect on me. Only the thief and her husband, will be affected by this lack of water, for it is their garden and their animals that will go without. The brook used to be damed up so that the water would never run dry, even in August, but the dams were smashed in 2006, by this same couple. I rebuilt them several times, but each time they took the dams down again. If they want to stay in the brook at all, they had better work fast at rebuilding those dams, because from what I'm seeing, by this time next year, there will be no brook at all and no water running through this farm, ever again.
And this...this is just the beginning. I know this Faerie well. I know his ways. I know how he thinks. I know how he acts and reacts. My advice to the ones punished by the Fae: get on his good side again, and get on it fast, because this is just him. He only controls the weather and the water. He's a water Faerie after all. But he's angry, he's very, very angry, and he's been talking to the Phookas. Blackbird and FireHawk are on the move - there are signs of their activity all over, all around the swamp. Etiole is not a demon, he is a Far-Darrig, but he can get find Demons, and you don't want to deal with them. Believe me, the last thing you want is for a pair of Phookas on your tail. They are, for a lack of a better description: angels of death and destruction. A Far-Darrig is a Good Faerie, a Brackish Water Trickster Faerie, but a harmless Faerie none the less, but Phookas, they are Faeries at their worst, the darkest and evilest of all evils, violent and bloodthirsty, and they are on the move. Of all the Fae, there is no creature any of them fear more than the Phooka. When another Faerie calls on the help of a Phooka, it's not a good sign. It's a very, very, very, very, unimaginably bad sign.
Give a Faerie a place to live and he will protect you and bless you. They are what Christians refer to when they speak of "Guardian Angels". Take away a Faerie's home and he will never again let you rest in peace. It is never wise to mess with the Faeries. Even the Solitaries, will band together to defend one of their own. Leave them be. Leave them in peace. Don't disturb them. Don't bother them. Leave them alone, and they'll leave you allow, hurt them, and they will destroy you. Only a fool would mess with the Faeries. I pity the fools.
Free eBook: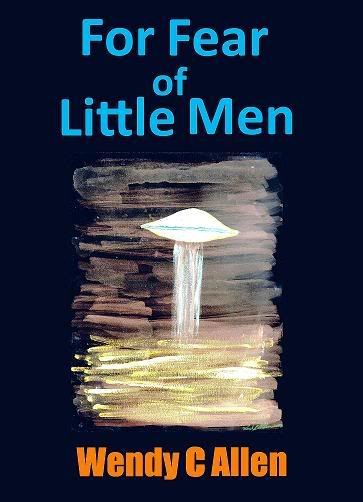 Or the print version:
http://twitter.com/EelKat
http://www.facebook.com/EelKat
http://eknano.blogspot.com
http://eelkat.wordpress.com
http://www.nanowrimo.org/eng/user/132659
http://www.scriptfrenzy.org/user/132659